Tacoma Sex Crimes Lawyer
Being accused of a sex crime is a devastating experience and can destroy your reputation—even if the allegation is entirely false. Unfortunately, false allegations of certain sex crimes are not uncommon. They happen in bitter divorces and nasty custody battles, relationships that are on the rocks, and as a cover-up for consensual sex. And although you are supposed to be considered innocent until proven guilty, you may find that many people are ready to try and convict you in the court of public opinion, regardless of the truth or falsity of the accusation, that's why you need a seasoned Tacoma sex crimes lawyer in your corner.
If someone has accused you of a sex crime or is threatening to accuse you, you need the best lawyer available. In Tacoma, for experienced defense against a sex crime allegation, call the law office of Mark S. Treyz. Mark has been practicing law in Washington for over 30 years and has been both a prosecutor and a pro tem judge. He understands how the system works from every angle and will use that knowledge to provide you with a powerful defense. Schedule a free consultation with an experienced Tacoma defense lawyer now.
Why You Should Choose Mark Treyz for Your Tacoma Sex Crimes Case
-Mark has a thorough understanding of the Tacoma criminal justice system. He previously worked as a Pierce County Deputy Prosecutor, which allowed him to see the ins and outs of the system.
-With over 30 years of experience in the defense field, attorney Mark Treyz has the resources and knowledge to fully protect your rights.
-We believe that you should have access to strong representation without worrying about the cost of one. Because of this, we offer flexible payment plans for our clients.
-Your first initial consultation is 100% free. Contact us today to see how we can help.
Sex Crime Allegations We Defend
These are some of the many types of sex-related crimes the Law Office of Mark S. Treyz defends:
Sexual assault, rape, aggravated sexual assault
Sex crimes involving children
Statutory rape
Online solicitation of a child under 17
Indecent exposure, public lewdness, obscenity
Possession, display, or distribution of pornography
Possession or promotion of child pornography
Prostitution-related crimes
Sex trafficking
If the police or Child Protective Services are attempting to interview you, even if they say you are not under arrest, do not speak to them unless you have your sex crimes lawyer present. Mark Treyz will ensure that your rights are not violated at any point in the investigation.
Tacoma Rape Statistics 2006 – 2016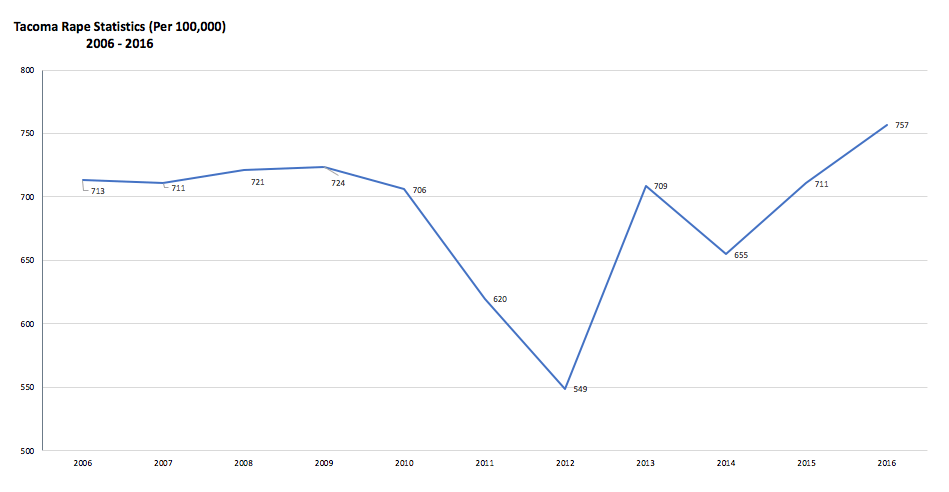 Source: City Data Crime Statistics
Sexual assault or rape is a serious crime and not taken lightly in Washington State. According to City Data, the rate of rape crimes in Tacoma has gone down dramatically in the last decade. The most recent data from 2016 shows a rate of rape crimes in Tacoma out of 100,000 people to be 75.7 compared to 2012 when the rape crime rate was at a 15 year low of 45.9.
While a rape crime is a serious offense, false allegations do occur and the repercussions socially, professionally, emotionally, and otherwise on a falsely accused person can be catastrophic. Mark is a talented and dedicated Tacoma sex crimes lawyer who will fight to keep his clients out of jail and maintain a clean criminal record. If you or a loved one is being charged with rape, contact Mark today.
Sex Crime Conviction: A Life Sentence
A sex crime is unlike others in the sense that if you're convicted, your punishment does not end when you're done serving your time; you'll be required to register as a convicted sex offender anywhere you live, possibly for the remainder of your life. Your address, photograph, and charges will be on the Internet—forever—for everyone to see. You'll be restricted from living in certain areas and doing certain kinds of work. You'll never be allowed to escape the stigma. You could even be held in custody indefinitely in a "civil commitment" after your sentence is complete.
An Experienced Tacoma Sex Crimes Lawyer Makes the Difference
Having a skilled Tacoma sex crimes attorney in your corner from the earliest stages can make a significant difference in the resolution of your case. Whenever possible, Tacoma sex crimes attorney Mark Treyz will work to keep charges from being filed. He will investigate the police procedure leading up to your arrest to identify any irregularities or violations of your constitutional rights. He will look into the background of the accuser to discover possible motives for making a false accusation. If you are a minor or a first-time offender, he will advise you on possible diversionary programs and pretrial interventions that could result in charges being dropped. If you are charged, he will use any legal means at his disposal to have the charges dropped or reduced. He will minutely analyze every piece of evidence and explore every possible strategy to find the best defense to prevent a conviction that could destroy your life.
If you're an adult or juvenile who has been accused of a sex crime, you need legal assistance now. To protect your rights and your future, contact the Tacoma law office of Mark S. Treyz without delay.
"I wanted to say thank you for all you did for my son. The legal advice and support you provided was excellent. I can only wonder where my son would be today without your help in his matter." D.S.